BladeRunner 1982
DIEULOIS

DATABASE

:BEST RATING
LOS ANGELES 2019 in 1982small History within the greater HiSTORY--goo.gl::
WIKI
IMDB DATABASE -:- ALLOCINE DATABASE
BEST BLADE RUNNER : my favorite Movie-BladeRunner 1982
---Base:VIP for DIEULOIS.com-----
0.3
This hReview brought to you by the hReview Creator.
person






Trailer of BladeRunner 1982




In the futuristic year of 2019, Los Angeles has become
a dark and depressing metropolis,
filled with urban decay. Rick Deckard, an ex-cop, is a "Blade Runner".
Blade runners are people assigned to assassinate "replicants".
The replicants are androids that look like real human beings.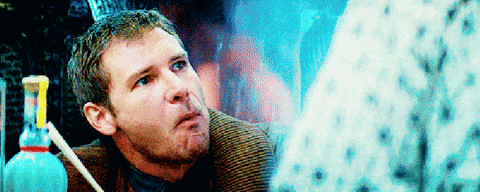 All he'd wanted were the same answers the rest of us want.
Where did I come from? Where am I going? How long have I got?
All I could do was sit there and watch him die.
I've seen things you people wouldn't believe.
Attack ships on fire off the shoulder of Orion.
I watched C-beams glitter in the dark near the Tannhauser gate.

Tannhauser Gate
Thanks Gattobus : " Quel talent " in french!
Sean Young in "Blade Runner" #movietwit #scifi #bladerunnder2 pic.twitter.com/w7tYG5NlfJ

— Mark Austin (@BobaFettANHSE) 15 août 2016
Deckard: Gaff had been there, and let her live.
Four years, he figured. He was wrong.
Tyrell had told me Rachael was special. No termination date.
I didn't know how long we had together... Who does?
Los Angeles, 2019. Apres avoir massacre
un equipage et pris le controle d'un vaisseau,
les repliquants de type Nexus 6, le modele le
plus perfectionne, sont desormais declares
hors la loi. Quatre d'entre eux
parviennent cependant a s'echapper et
a s'introduire dans Los Angeles.
Un agent d'une unite speciale,
un blade-runner, est charge de les eliminer.
Selon la terminologie officielle,
on ne parle pas d'execution, mais de retrait...
All those moments will be lost in time...like tears in rain... Time to die
Blade Runner est le film incontounable qui change une vie!
on ne s'en souvient pas une nuit
on s'en souvient 20 ans apres

Largement inspire du livre " Do androids dream of electric sheeps" de P.K.DICK,
Ridley se concentre sur la chasse des androides NEXUS-6
en peignant un los angeles sombre et asiatique sous les notes vaporeuses de VANGELIS.
Un film inoubliable , le meilleur de Ridley a ce jour!
Esperons un jour une version longue integrant le duo Mercer/buster du livre
ainsi qu'un role plus large des animaux limite au hibou dans la version de 1982.
7 versions existent avec la director's cut de 1992 qui accentue le melange Blade runner
-replicant: Deckard est un replicant ( implant de souvenir telle la licorne)